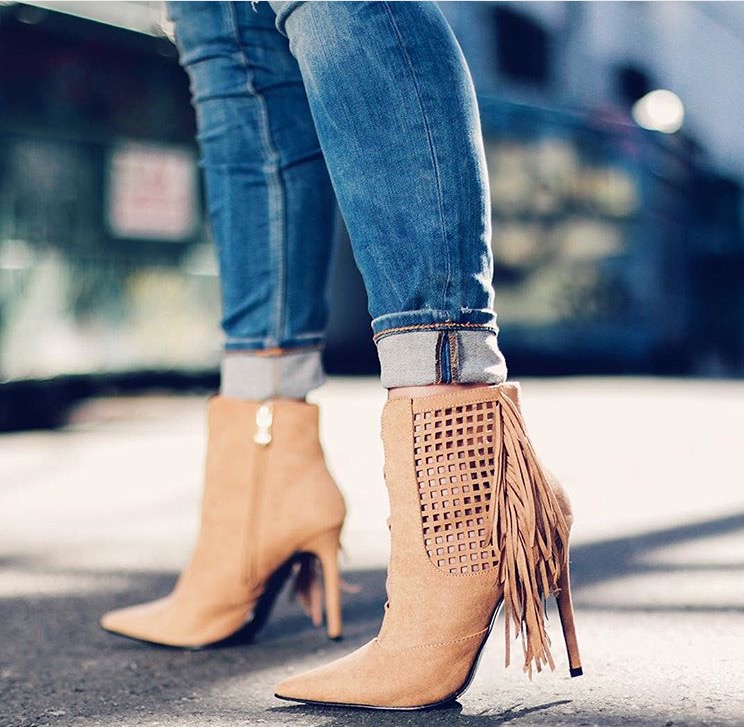 Spring is literally around the corner and we can smell it already. It is that time of year to clean out the closet and add our warm colors and light layers. But what about the shoes? I personally wear boots most of the winter. So once the warmer months come around I quickly stuff my Uggs and riding boots in the storage bin.
Spring can be a bit bi-polar sometimes, that is why I like to keep some types of boots handy just in case that we wake up to cold or rainy morning. Or if I'm just feeling like being stylish in my boots, why not? The following list highlights must have boots for the Spring Season.
Who doesn't love a pair of cute booties? They are such a hot trend any time of the year. However, I prefer to wear them during Fall and Spring. They are so many styles to choose from such as leather (faux or real), suede or nubuck. You can create a really sassy look by styling them with a dress or skirt.
Believe it or not, there is a difference between ankle boots and booties. Although they look very much a like the biggest difference is the the length. Ankle boots are a little higher than booties. They typically can stop between 1 to 4 inches over the ankle, while booties stop right on the ankle. Another difference? Booties always have a heel, wether it's high or very low; ankle boots can be flats. Either way, I love them both and wear them with anything.
Growing up I was never a fan of cowboy boots, but over the years I have grown to love them. I enjoy wearing the mid calf ones in the spring with some nice jeans or shorts.
As much as we adore the Spring, the rain is inevitable. That is why you should always keep a good pair of rain boots in the closet. There's no worst feeling than arriving somewhere with wet socks. You can turn the gloomy day around by making it a stylish one. Pair your boots up with a trench coat, and a bubble umbrella, and you're set to go!

Comments