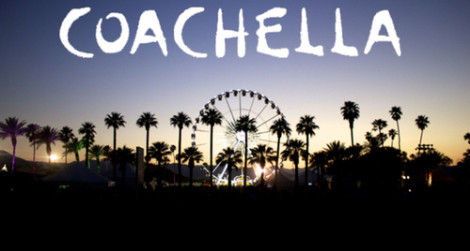 Coachella is one of the largest, most famous, and most profitable music festivals in the United States. In 2014, the festival tallied an aggregate attendance of 579,000 over six days and grossed a record-breaking $78.3 million. It is one event that everyone around the world comes to California for each April to have a great time and listen to some of the best artists. But besides the music the other half of the festival is dedicated to visual arts, including installation art and sculpture. Most of the pieces are interactive, providing a visual treat to the attendees walking amongst the festival grounds.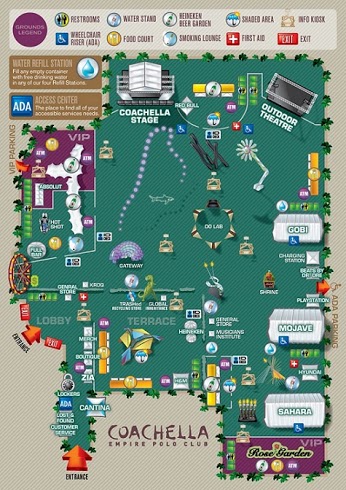 Art at Coachella
This year I had the pleasure of attending Coachella 2015 for the first time with two of my close friends and my husband. I attended weekend 1, which was from April 10-12th. The event takes place in the beautiful desert of Indio, California. Once we arrived at our hotel the signature welcome box with our tickets was waiting for us. This made everything surreal!
Coachella Tickets
The beautiful scenery and of course the signature Ferris Wheel were breathtaking. All of the mountains and palm trees surrounding us were amazing. There were so many people at this event where it just felt that everyone was coming together peacefully to hear good music and have a good time.
Coachella Scenery
Coachella's music festival offers great music, art and landscape but the fashion is what really makes Coachella. Every year everyone is eager to see what people wear to this event. Granted you could never go wrong with what you wear and this is the one time that you can wear absolutely anything and it would not matter. For the three days I tried to dress the part. The first day I wore a black crop top (Forever 21), with a kimono (Target) , denim shorts (The Loft), flower head piece (Payless) and black combat boots (Target). Wearing these boots the whole weekend was the best against the dirt and they were comfortable.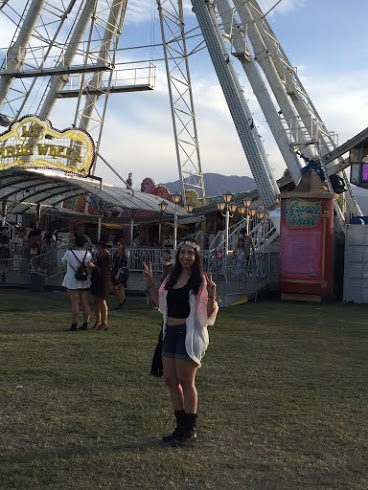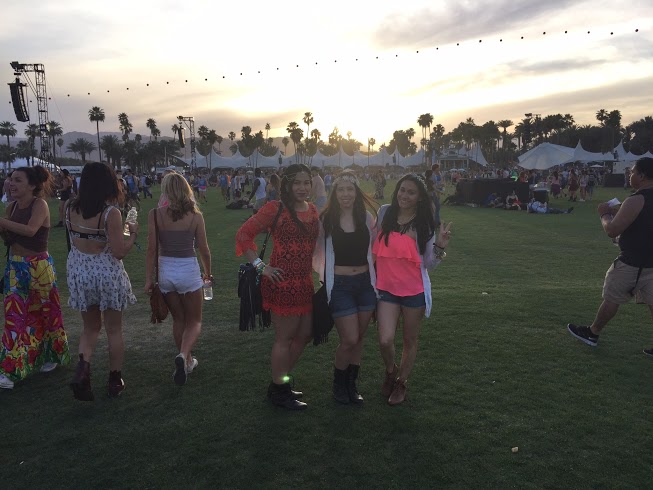 Day 2 was my favorite outfit. It was a long-sleeve off the shoulder crop top (H & M), high waist shorts (Arden B),black fringe purse (Express), flower head piece (Hot Topic), and black combat boots (Target). The second day with fashion was more fun, free and hippie. I felt the most fashionable and comfortable.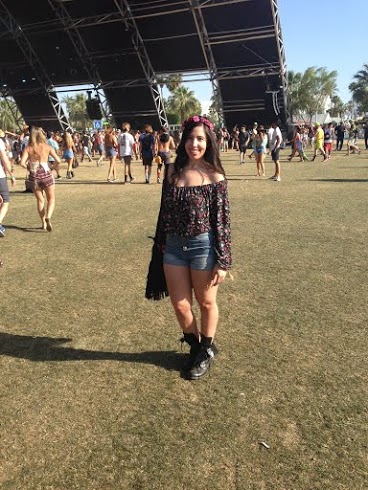 Day 2 Outfit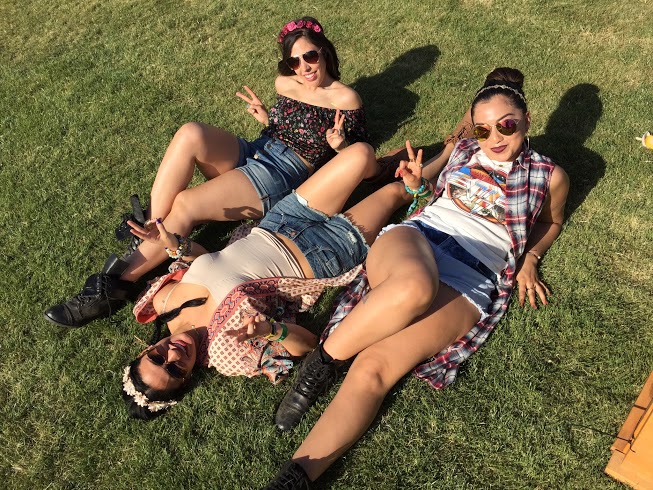 We now have arrived to our final and last day. Day 3's outfit was still stylish but more laid back. It was a nice pattern shirt (Target), denim shorts (The Loft), black fringe purse (Express), black combat boots (Target), aviator sunglasses (Payless) and black combat boots. This was the best outfit to wrap up Coachella because not only was it nice and comfortable but to know at the end the butterfly hatched and what better way to celebrate the end of the music festival than with a butterfly.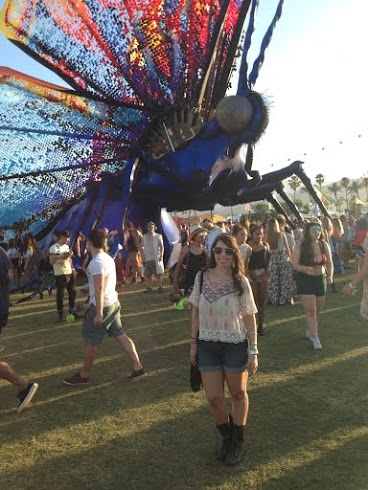 Day 3 Outfit
Besides all of the stylish outfits my friends and I wore many people were very fashionable. The trend I mainly saw were long skirts, tanks, shorts, dress, flower headbands and much more. Here are some of the fabulous outfits I saw at Coachella for women.
Coachella Fashion
We can't forget about the accessory fashion of bracelets. Here are some bracelets I wore for the weekend.
Not only was it fashionable for women at coachella but the men took part in the fashion. I know my husband wore shorts and tanks all weekend long. Its simple, fashionable and comfortable. The trend that was in were printed shirts. Men wore printed t-shirts, button downs and tanks.
Coachella Fashion
Coachella is a weekend of fun, music, art and fashion. It is most certainly a time in my life I will never forget. Make sure to at least one time in your life attend this fun music festival. It's for all ages and you would not regret attending this event. I know I am sure to make a second trip back. So till next time coachella, it was an amazing experience!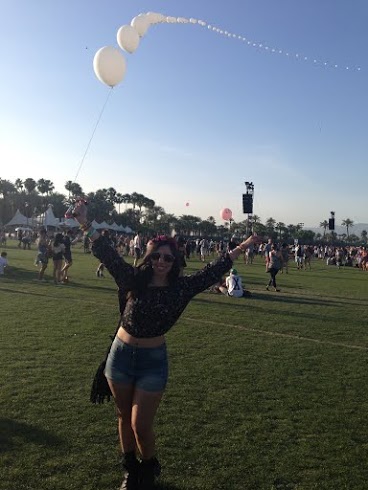 For more information on travel tips or fashion feel free to email me at infothesocialbutterfly@gmail.com

Comments